01 02

03 04 05 15 16 19 20 21 22 23 24 25 26 27 28 31 32 33 34


Hey there, it's that time of the month again: The Gossamer Blue Blog Hop is in full swing today and together with my DT colleagues I'm giving you some inspiration for how you can use your September Kits!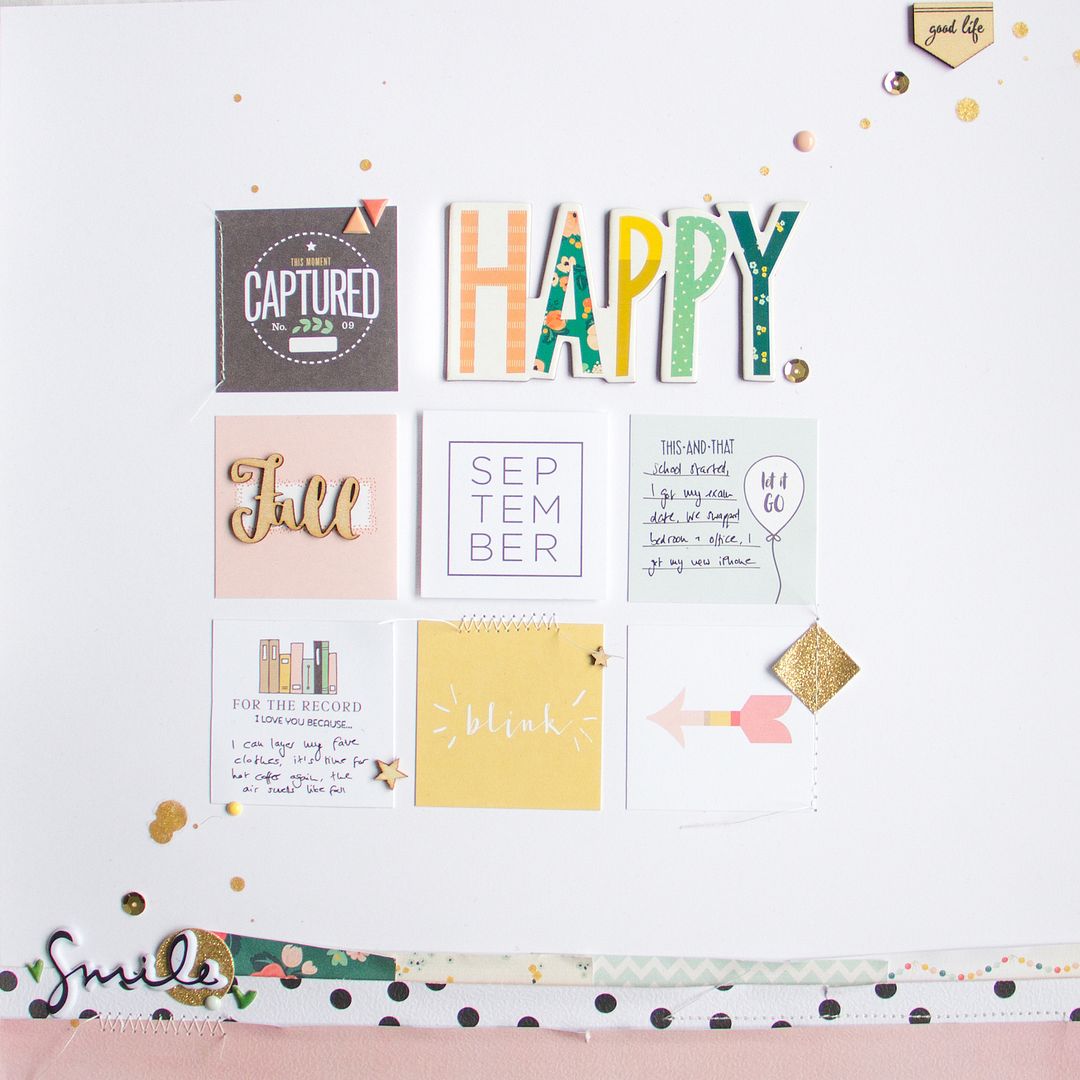 HOW?
For today's layout I decided to try something new. I have wanted to make a no-photo layout for quite some time now but never really knew where and how to start. This time though, I had those gorgeous 2x2" square Life Pages cards from the Life Pages Main kit and I just knew I wanted to use them. However, I don't have a Project Life album or anything like that where I could use them.

WHAT?
Well, the Life Pages cards were perfect to document some snippets about this month. On the balloon card on the right I noted some things that happened/are happening this month and on the For the Record card on the left I documented some reasons why I like September/fall, such as finally being able to wear lots of my favourite clothes again (because I can layer them), drinking hot coffee and the smell of the air in autumn!



I have to admit, I really really like how this turned out! I think the colour scheme is absolutely gorgeous - the Gossamer Blue cards go so well with the Crate Paper "Wonder" collection!

I think it would be fun to make a layout like this for every month of the year to document what's happening right now. Hmm.. I think I'll try to do that, especially as long as I don't do Project Life.

Products used:
Gossamer Blue September Scrapbook Main Kit
Gossamer Blue September Life Pages Main Kit
Gossamer Blue September Life Pages Themed Add-On

Have you ever made a no-photo layout or have some pinned somewhere? I'd love to get some inspiration for more layouts of that kind, so leave me a link! :)

And now, for some more inspiration:

Alex Hunter Andrea Gray Anabelle O'Malley Brenda Smith Brenda Weaver Caylee Grey Chantal Philippe Diane Payne Emily Spahn Eunyoung Lee Jill Cornell Jill Keller Joy Taylor Kathleen Graumüller <--you are here Katie Ehmann Kellie Winnell Kelly Xenos Michelle Wedertz Michelle Wooderson Olatz Garaiyurrebaso Patricia Roebuck Rebecca Luminarias Sandra Dietrich Sian Fair

Labels: 2015 Layouts, Blog Hop, Crate Paper, Gossamer Blue, Layout, Scrapbooking

35 36 37 38