01 02

03 04 05 15 16 19 20 21 22 23 24 25 26 27 28 31 32 33 34

----- Deutscher Text am Ende des Posts -----



I have already shared on Instagram that last week S. and I finally took the plunge and switched our bedroom and my craftroom. This means that the new bedroom is now much smaller (but also a lot cosier!) and the craftoom is now big enough for S. and I to have our own desks in there. There is enough space that I can still have my two desks (one for crafting and one for my computer where I do my school-stuff), S. has his desk and there's still space left for lots of storage options.
It's still not finished, we want to get rid of the huge Expedit/Kallax shelf and get sth. prettier instead, I still need to finish the inspiration wall above my table and in the long run I want a workstation where I can stand for crafting (I tried it and it was so much easier to move around..). I already shared two small peaks into my new space here and here, and once it is finished I will definitely show you more!
But what I can say so far: S. and I love it and we both agree that we should have done this earlier! We especially love the black wall (seriously, if you thought about painting a wall in your home black, go for it!) and the fact that now I don't have to be all alone when I'm crafting. Switching those rooms also made me happier with our whole apartment. It's far from perfect (but then again, perfect is boring) but now it at least feels "fresh".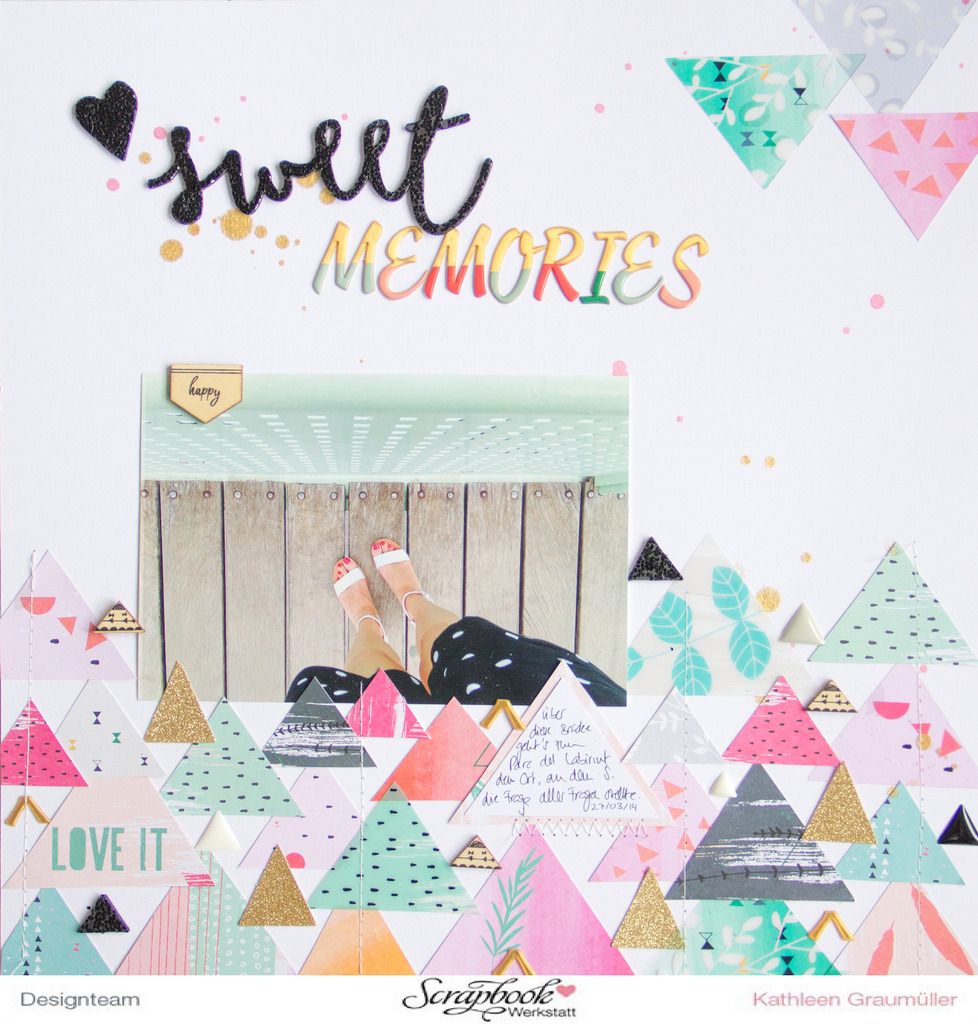 Well, that urge to switch things up also showed when I made these two layouts that are the first ones that I made in my new craftroom. For the first one I was inspired by Paige Evans. If you've been around the scrapbooking world for a bit, you will have come across her pretty pages that mostly have one thing in common: the repetition of one shape/technique/colour. So for the first layout I decided to cut up this paper from the new Pinkfresh Studio collection "Happy Things" and put the triangles onto my layout. Then I got a bit carried away and added more and more triangle shaped embellishments (like enamel shapes, the gold glitter stickers or the wood veneer pieces).
It's different from my usual layouts, but it helped me get out of a rut. This is why I highly suggest going out of your comfort zone and trying new things when you feel stuck or uninspired!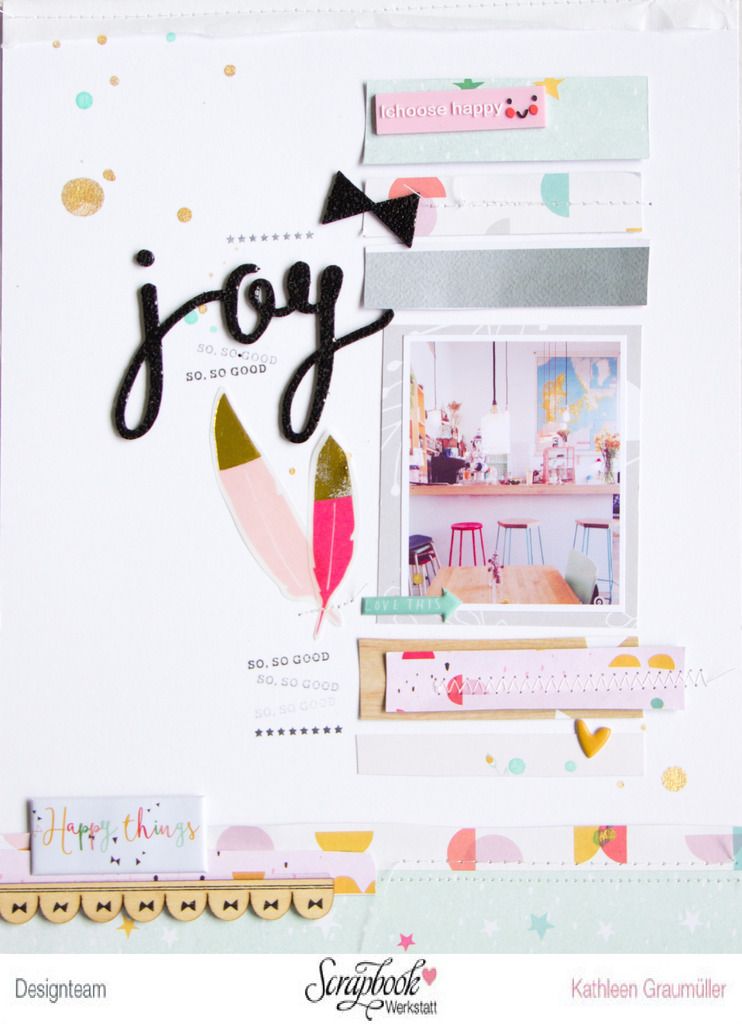 The second layout is more like my usual style but in general quite a bit more colourful - nevertheless I like it a lot :) There's not much to say about it, actually. It's just a quick and simple layout with fun bits and pieces scattered all over the page :)

I'd love to hear what you do when you get in a creative rut, any advice? Please share! :)





---------------------------------------------------------------------------------------------------------------


Ich hab' ja bereits auf IG erzählt, dass S. und ich vergangene Woche unser Schlafzimmer mit meinem Arbeits-/Bastelzimmer getauscht haben (hier und hier zwei kleine Ausschnitte). Daher ist das neue Schlafzimmer um einiges kleiner, aber auch gemütlicher. Das neue Arbeitszimmer ist nun groß genug, um sowohl einen Arbeitsplatz für S. als auch für mich und noch Stauraum unterzubringen.

Auch wenn das Zimmer noch lange nicht fertig ist (wir wollen das Expedit/Kallax Regal durch etwas hübscheres austauschen, ich muss noch meine Inspirationsgallerie über dem Tisch vervollständigen und auf lange Sicht hätte ich zum Scrappen gerne einen Stehtisch), trotz allem sind wir uns aber jetzt schon einig: Es war die richtige Entscheidung und wir hätten es einfach schon viel eher machen sollen! Wir sind so zufrieden damit, wie es bereits jetzt schon aussieht (vor allem die schwarze Wand hat es uns angetan!!). Außerdem heißt das auch, dass ich endlich mal nicht mehr die ganze Zeit alleine Scrappen muss, sondern wir dann wenigstens zusammen in einem Raum sein können.

Das Tauschen der Räume hat mich insgesamt auch um einiges zufriedener mit unserer Wohnung gemacht. Dadurch wirkt nun alles wieder etwas "frischer" und kommt dem, wie ich es mir endgültig vorstelle schon viel näher.

Dieses Bedürfnis nach etwas frischem Wind hat sich dann auch beim Scrappen fortgesetzt. Die Layouts, die ich euch heute hier zeige, sind die ersten beiden die in meinem neuen Scrapbereich entstanden sind. Da ich mich in letzter Zeit ein wenig uninspiriert fühlte und beim Scrappen irgendwie das Gefühl hatte in einem Trott festzustecken, habe ich mich einfach mal aus meinem Wohlfühlbereich herausbegeben.

Wer schon eine Weile in der Scrapwelt unterwegs ist, kennt unter Garantie die Layouts von Paige Evans. Sie haben alle meist eines gemeinsam: viele kleine Teile, das Wiederholen einer bestimmten Form und vor allem viel Farbe. Auch wenn mir ihre Sachen meist gut gefallen, ist das einfach nicht meine Art zu scrappen. Für dieses Mal habe ich mich aber genau von ihren Sachen inspirieren lassen, als Versuch aus meinem Trott herauszukommen.

Ich hab' mir das Papier mit den ganzen Dreiecken von Pinkfresh Studio geschnappt und ganz viele davon einzeln ausgeschnitten und dann auf meinem LO platziert. Dann ist es ein bisschen mit mir durchgegangen und ich hab' noch weitere dreieckige Elemente hinzugefügt, so lange, bis ich das Gefühl hatte es reicht ;) Auch wenn ich mir immernoch nicht 100% sicher bin, ob ich das LO mag oder nicht, so hat es mir zumindest geholfen, meine Blockade zu überwinden, denn gleich danach ist neben dem zweiten LO das ich euch hier zeige auch noch ein ganzer Schwung weiterer Projekte entstanden, die ich euch zum 1. September zeigen kann, wenn die Gossamer Blue September Kits live gehen. Ich freu' mich schon drauf!!

Jetzt bin ich aber neugierig, was macht ihr, wenn ihr mal eine kreative Blockade habt und einfach irgendwie nicht weiterkommt bzw. euch ganz uninspiriert fühlt? Irgendwelche Tipps und Ratschläge?



Products used:


Pinkfresh Studio "Happy Things" - Alpha Stickers
Pinkfresh Studio "Happy Things" - Glitter Foam Stickers
Pinkfresh Studio "Happy Things" - Rubber Charms
Pinkfresh Studio "Happy Things" - Studio Puffs
Pinkfresh Studio "Happy Things" - Acetate Diecut Triangles
Pinkfresh Studio "Happy Things" - Wood Veneer Sticker

s


Pinkfresh Studio "Happy Things" - Balloon/Semi Circle
Pinkfresh Studio "Happy Things" - Botanicals/Sparkle
Pinkfresh Studio "Happy Things" - Ombre Mosaic/Confetti Circle
Pinkfresh Studio "Happy Things" - Rustic Triangles/Triangle Pattern
Pinkfresh Studio "Happy Things" - Dream Big/Geo Stripes
Pinkfresh Studio "Happy Things" - Vellum Gold Tipped Feathers
Crate Paper "Wonder" - Glitter Shape Stickers

Labels: 2015 Layouts, Layout, Life, Pinkfresh Studio, SBW, Scrapbooking

35 36 37 38