01 02

03 04 05 15 16 19 20 21 22 23 24 25 26 27 28 31 32 33 34 The weather is very dreary and grey here today (well, actually it was like that the whole weekend, but that doesn't surprise me because, why should the weather be great when I actually have time so I could enjoy it?!), so I thought I'd share a fun and colourful summer-themed layout with you today!



For this layout I used the new Crate Paper "Poolside" collection - I absolutely love it. The colours are fun, the embellishments are perfect and there are bits and pieces of gold in there as well. What's not to love about that?

Just recently I added some packages of sequins to my stash (it's entirely Caylee's fault) and was determined to use them on my next layout. When I had a look at this sequin mix by My Mind's Eye, I noticed that it would go perfectly with the Poolside collection. I also had a piece of transperency lying on my desk (probably a left-over from one of my school lessons) and decided I should use it for this layout rather than throwing it away.
So I came up with this confetti pocket idea.



How to
You first place the transparency where you want your pocket to be on the layout. Then secure it with some small pieces of washi and stitch it down with a sewing machine.
Only sew three sides of the pockets shut and leave one open, so you can fill your confetti in. When you have done that (you can use sequins, wood veneer pieces, small chipboard pieces etc.), close the pocket with the sewing machine - and you're done :)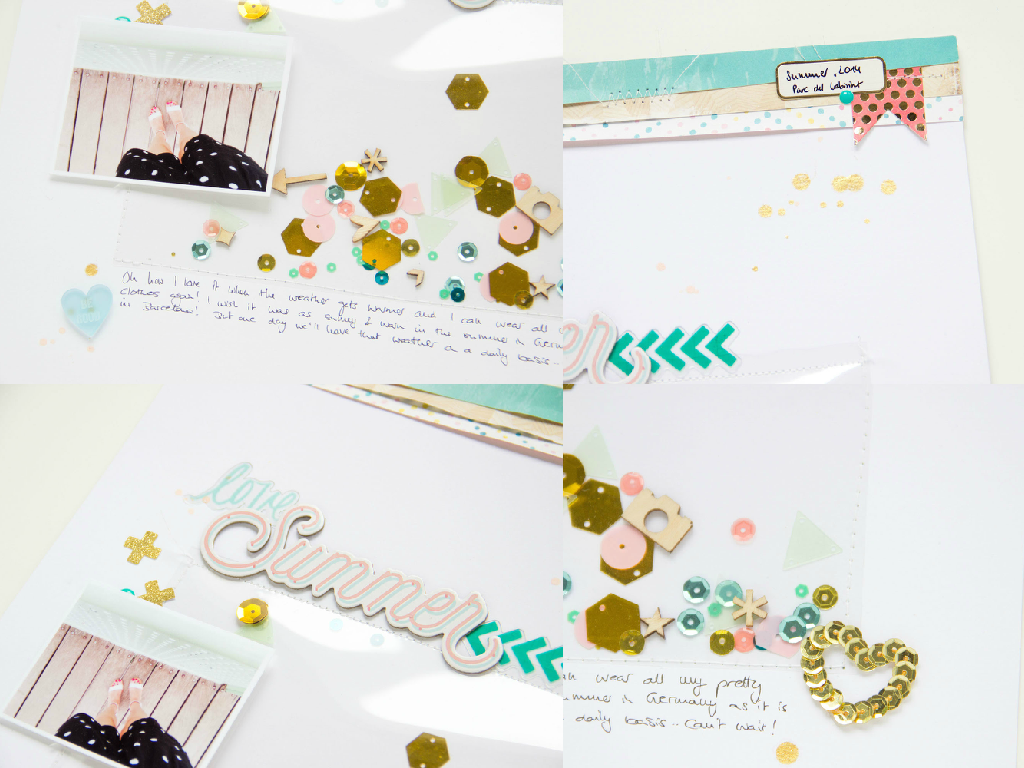 I also added this darling blue heart embellishment (see upper left photo in the collage) from Colorcast Designs. I love how it's a bit transparent and it fits the shade of the blue sequins in the confetti pocket perfectly.

Great, now it also started to pour.. I think I'll continue to work on the mini album that I've started using the Poolside collection now and dream about warmer weather, sunshine and beaches.. :)
What are you up to today? Is the weather nice enough to enjoy it or are you also staying inside and scrapping?

Products used:
Crate Paper "Poolside" - Lawn Chair paper
Crate Paper "Poolside" - Snow Cones paper
Crate Paper "Poolside" - Pooltime paper
Crate Paper "Poolside" - Ephemera
Crate Paper "Poolside" - Sticker Sheet
Crate Paper "Poolside" - Thickers
Crate Paper "Poolside" - Gold Sequin Stickers
My Mind's Eye "On Trend" - Sequins
Colorcast Designs "Conversation Hearts" acrylic embellishments

Labels: 2015 Layouts, Colorcast Designs, Crate Paper, Layout, SBW, Scrapbooking

35 36 37 38