01 02

03 04 05 15 16 19 20 21 22 23 24 25 26 27 28 31 32 33 34 As I promised yesterday, today I want to show you a few sneaks of my projects with the pretty Scrapbook Werkstatt December kit. As you can see, I made many different projects with it and stuck to mostly two colour schemes that are quite different from each other. I think it's awesome that it is possible to create such different projects with the same kit!

Wie ich ja schon gestern versprochen habe, zeige ich euch heute ein paar Sneaks von meinen Werken mit dem SBW Dezember kit. Wie man sehen kann, habe ich mich dabei zum größten Teil an zwei verschiedene Farbpaletten gehalten, die sehr verschieden sind. Und ich find's absolut klasse, dass man mit einem einzigen Kit so verschiedene Projekte machen kann!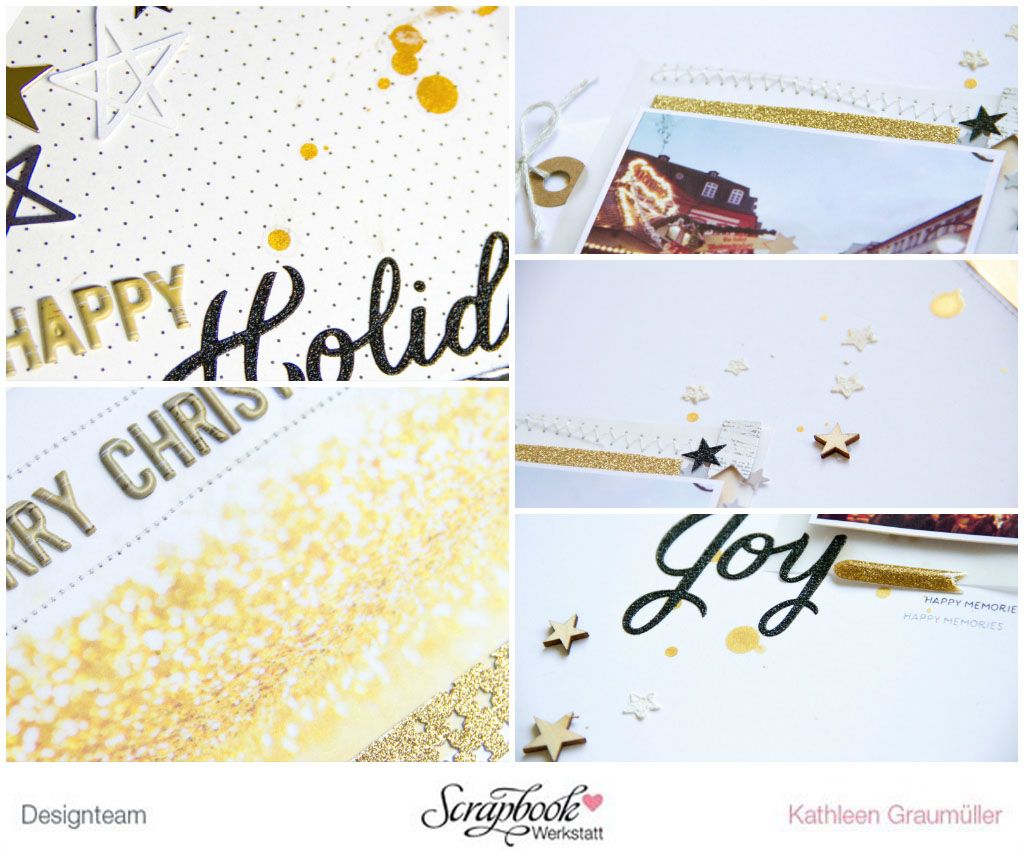 First of all there is this white, gold and black colour scheme which I absolutely love for Christmas! Black and white together with some metallic elements (gold, silver and, of course, copper) are absolutely my kinda Christmas colour palette!
And then there is this colour scheme that reminds me of Christmas candy, candy canes and a bit of kitsch ;) I'm not really into the traditional Christmas colours, so this was absolutely perfect for me!

Als erstes ist da dieses gold, weiß und schwarze Farbthema, was ich für Weihnachten absolut liebe! Schwarz und weiß zusammen mit metallischen Elementen (gold, silber und natürlich kupfer) sind genau mein Ding!!
Und dann haben wir da noch dieses bonbonfarbene Thema, das mich an Zuckerwatte, Zuckerstangen und ein bisschen Kitsch erinnert :) Ich bin einfach kein großer Fan der traditionellen Weihnachtsfarben, daher war das absolut perfect für mich!



Nevertheless, there are so many more things in the kit that are also suitable for the traditional red, green, white and kraft Christmas colours!
So, stay tuned because in the next few days I will show you the complete projects I created with the kit which will be available on the 26th of November!

Trotz allem sind in dem Kit noch so viele andere Produkte, die zu dem traditionellen rot, grün, weiß und kraftfarbenen Farbschema passen, es kommt einfach nur darauf an, wie man es umsetzt!
Also schaut die Tage wieder vorbei, wenn ich euch dann die kompletten Werke mit dem Kit zeige, welches ab dem 26. November erhältlich sein wird!

Labels: Monatskit, SBW, Scrapbooking

35 36 37 38