01 02

03 04 05 15 16 19 20 21 22 23 24 25 26 27 28 31 32 33 34 Today I'm going to show you the first layout I made with the SBW December kit. I actually wanted to write this post already yesterday, but after I got home from work I was so tired I had to lie down and take a nap. And after that I went to a concert with a really good friend of mine.
You may have seen it on Instagram already, we got to see Ben Howard live in Frankfurt and it was just wonderful! The opening act was just as amazing. Before yesterday I hadn't heard of Jack Garratt, but when he started playing I was immediately captured by his strong voice! You got to listen to this acoustic version of one of his songs, "Water" - I'm playing it on repeat for almost an hour now!

Heute werde ich euch nun endlich mein erstes Layout zeigen, das ich mit dem Scrapbook Werkstatt Dezember Kit gemacht habe. Eigentlich wollte ich diesen Post schon gestern geschrieben haben. Als ich aber nach der Arbeit heim kam, war ich so kaputt, dass ich erstmal einen Mittagsschlaf machen musste und danach ging es dann auch gleich mit einer Freundin zu einem Konzert.
Vielleicht habt ihr es schon bei Instagram gesehen: Wir haben gestern Ben Howard live in Frankfurt gesehen und was war einfach wundervoll! Und die Vorband bzw. der Musiker war absolut grandios!! Ich hatte vorher noch nicht von Jack Garratt gehört, aber ich war direkt beeindruckt von seiner ausdrucksstarken Stimme und der Musik! Ihr müsst euch unbedingt diese Acoustic Version eines seiner Lieder ("Water") anhören - bei mir ist es seit gut einer Stunde auf repeat!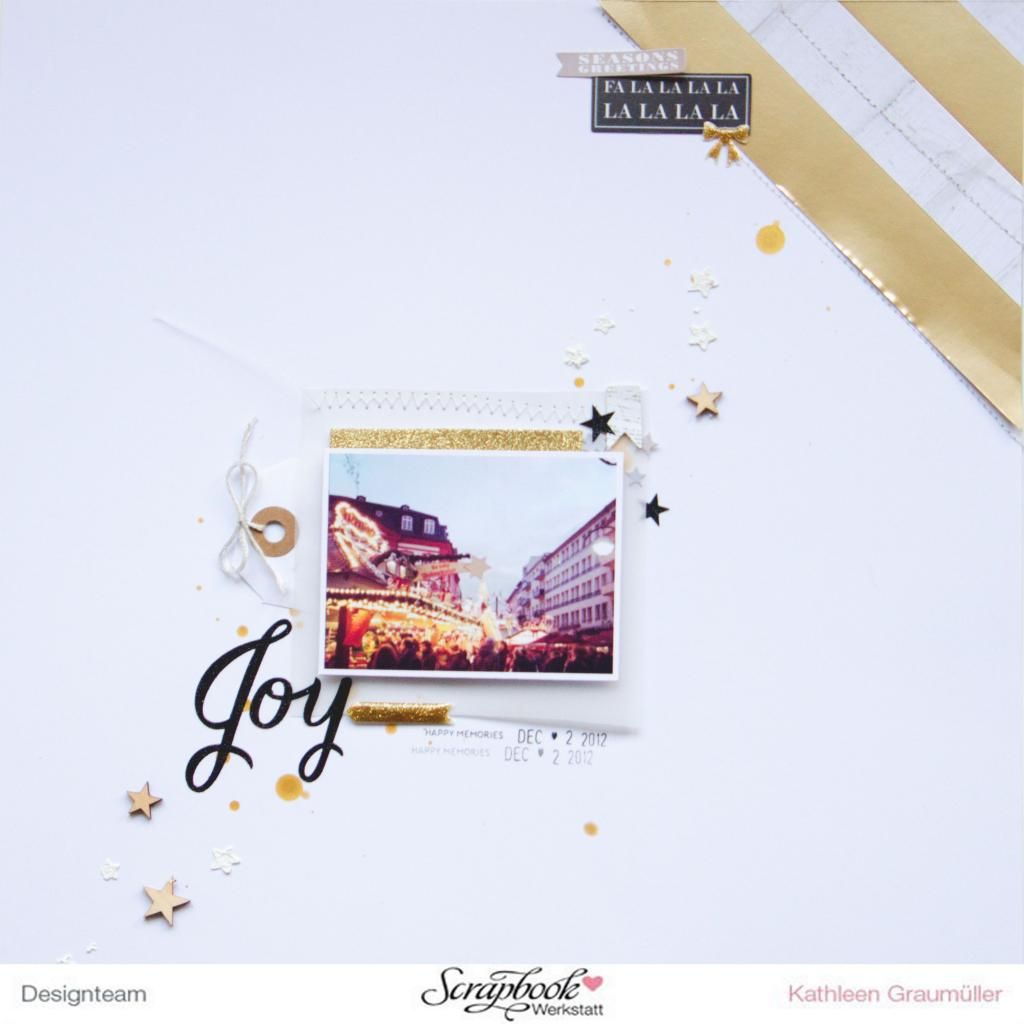 Okay, anyway. On to one of the layouts I made with the kit: It's actually quite simple with lots of white space (just the way I like it) and only black and gold as accent colours. And I have to admit that this is finally a LO I have been satisfied with in a really long time now!
Aber gut, nun zu dem Layout! Es ist eigentlich ziemlich simpel mit sehr viel "white space", genau wie ich es gerne mag, und Schwarz und Gold als Akzentfarben. Und ich muss sagen, dass dieses LO seit langem mal wieder eins ist, mit dem ich wirklich zufrieden bin!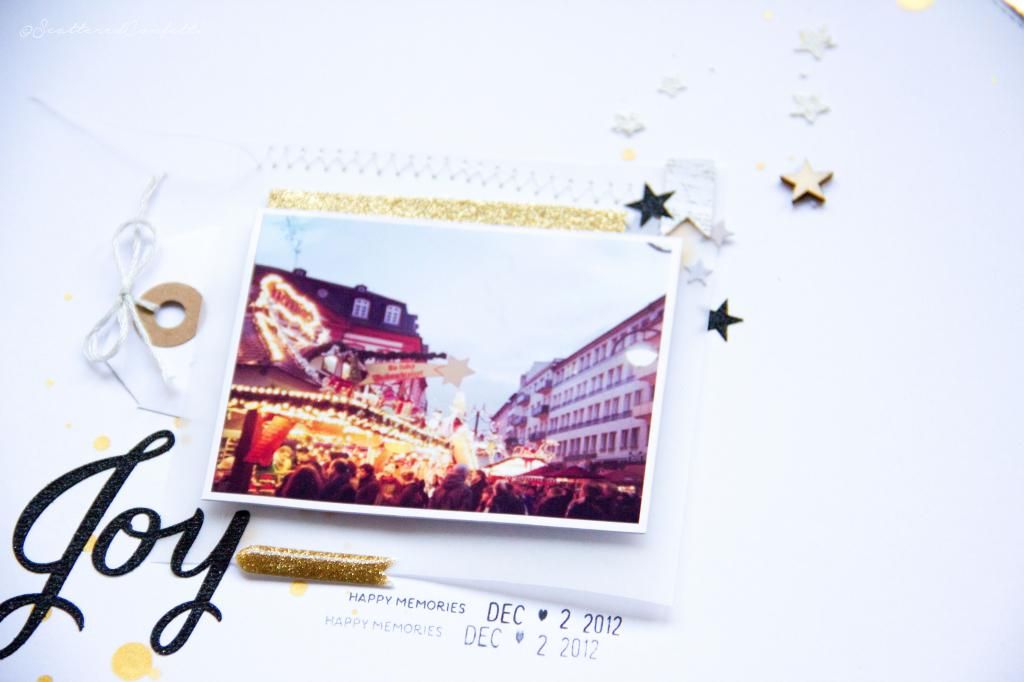 I layered my photo onto some vellum that I stitched onto the white cardstock, cut apart the striped paper with golden glitter, tuck a tag with hidden journaling underneath and then just added some stars in various colours and materials. The black glitter "joy" sticker was perfect as a title and the golden glitter enamel arrow seems like it just belongs there ;)
The white stars on the paper were made using an older Studio Calico mask and some structure paste. I absolutely love the look of white on white!
Das Foto habe ich auf Vellum aufgeklebt, welches ich mit der Nähmaschine auf den Cardstock aufgenäht habe. Außerdem habe ich das gestreifte Papier aus dem Kit mit dem goldenen Glitzer zerschnitten und noch darunter gesteckt, genau wie ein Tag mit ein bisschen verstecktem Journaling. Danach kamen noch Sterne in verschiedenen Farben und Materialien. Der schwarz glitzernde Schriftzug "Joy" passte perfekt als Titel und der goldene Pfeil passte einfach wie angegossen dahin!
Die weißen Sterne habe ich mit einer alten Mask von Studio Calico und etwas Strukturpaste gemacht - ich liebe einfach weiß auf weiß!!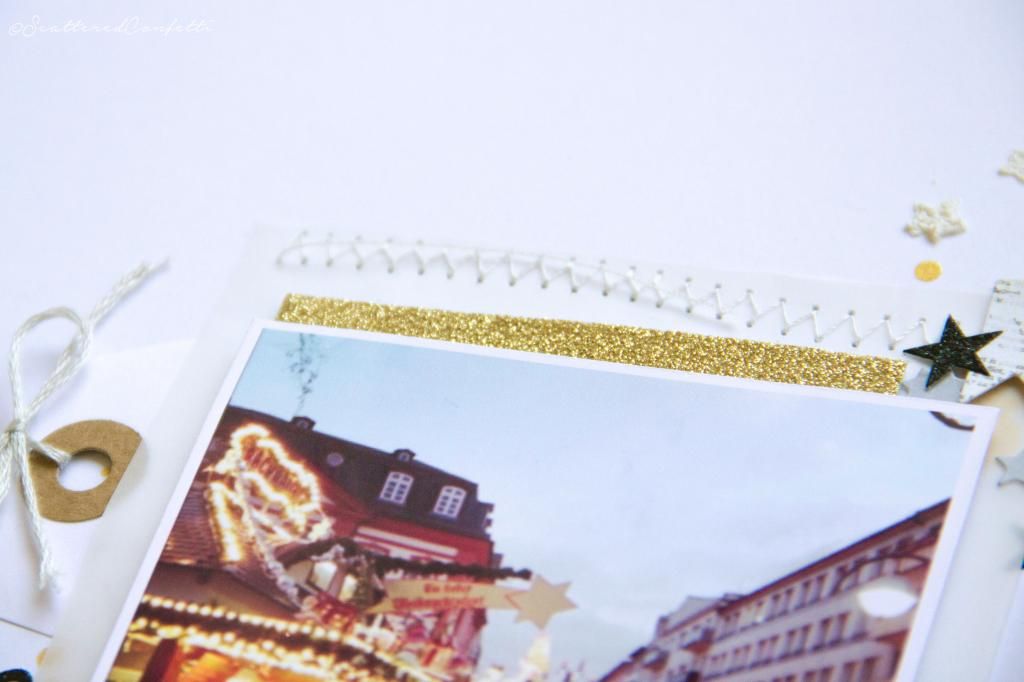 So, what do you think? Do you like this colour scheme for Christmas themed projects? Or which colour scheme is your favourite?

Und, was meint ihr? Wie findet ihr dieses Farbschema für weihnachtliche Projekte, so ganz ohne grün und rot? Und welches sind eure liebsten Weihnachtsfarben?


Products used:
From the Scrapbook Werkstatt Dezember Kit:
Pebbles Jen Hadfield "Homemade" - Cream glitter paper
Teresa Collins "Tinsel & Company" - Stripes Foiled paper
My Mind's Eye "Jubilee" - Enamel Shapes
Pink Paislee "Merry & Bright" - Glitter Word Accents
Pink Paislee "Merry & Bright" - Sticker Accents

From my stash:


White Cardstock




Vellum




White tag




Wood veneer stars




Star mask & structure paste




Heidi Swapp "Color Shine" - Gold Lamé




Roller date stamp

Labels: 2014 Layouts, Layout, Monatskit, SBW

35 36 37 38