01 02

03 04 05 15 16 19 20 21 22 23 24 25 26 27 28 31 32 33 34 Woohoo, it's time for a monthly prompt page again!! I have to say, I absolutely loved the prompt Andrea came up with!

Journaling challenge: Pick one word that describes you right now. Just one word.

Art challenge: Play with the word you picked. Use letter stickers, cut out your word from magazines and create a collage, write your word a hundred times on a piece of paper and use it as a background, use paint to write your word, … The main focus should be on your word.



In the beginning, I couldn't really decide on a word and I always had to think about "Searching", "Insecure" and so on because I am not really satisfied with where I am right now in my life. Both geographically and also figuratively..



But those words were too negative for me. I didn't want to have such a negative view on my current situation. So I continued my search for the word. And one day, when I entered our living room and had a look at our little "gallery wall", there it was: "The future belongs to those wo dream." - perfect, I had my word! "Dreamer" it should be, because this is what describes me best right now. I'm constantly dreaming about our plans for the future and especially where they will take us and it always gets me very excited and (most of the time) also makes me quite happy, because for a moment I can forget the rest around us.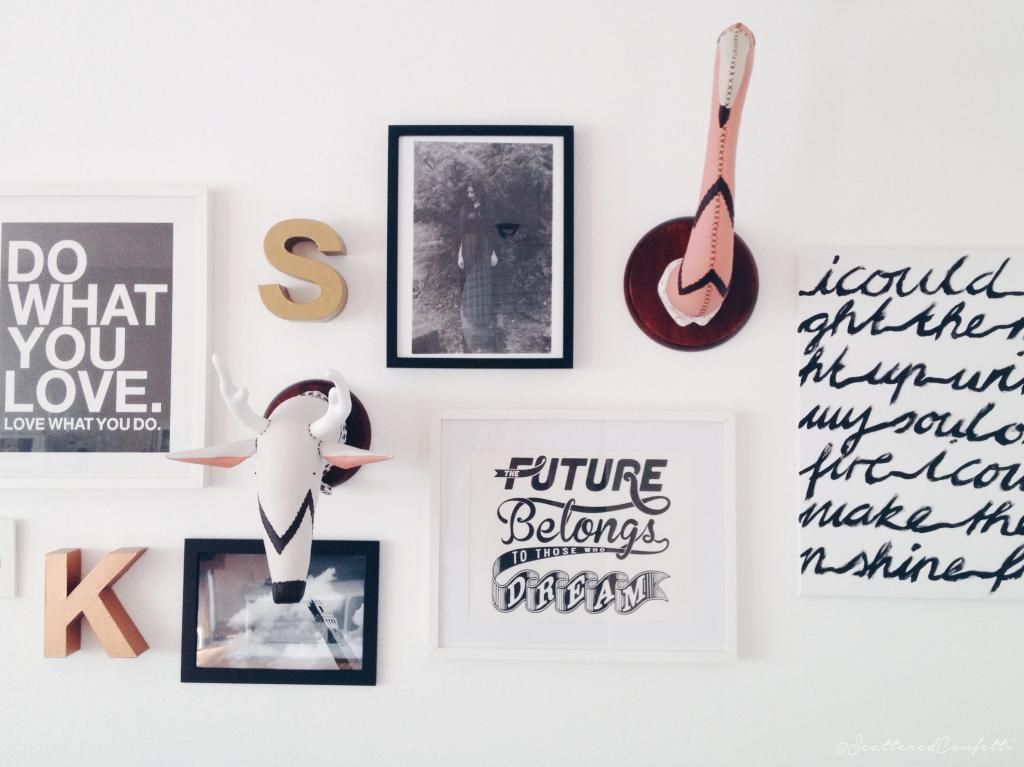 I chose to keep the pages quite simple and minimal and they even fit the style and colour scheme of our gallery wall, which was not intended but I think is just awesome! :)
I decided to stamp my word with LoraBailora's alphabet stamps in black ink on the left side. When I was done, I thought the right side needed some stamping as well, but I didn't want to make it the same as the left one.
Then i thought I could just switch it around an have some white words on black background. For that I coloured the background with my black ink pad, let it dry, then stamped the word onto it with my Versamark watermark stamp pad and put white embossing powder on top.
If you've been following my blog or IG account for more than about two weeks you will know that I not only love black and white, but also anything metallic, especially copper. So of course that had to go on my page as well :)
And now I'm excited to see which word all the other talented ladies in our Get Messy group chose to describe themselves and how they turned it into an art journal page!
Get Messy is an art journal challenge where a gang of crafty vixens are sharing art journal pages we have created to practise our skills and push past our creative limits with hopes to inspire. We share our pages without restraint every week, and once a month we create around a prompt. Go check out these crazy talented ladies who are creating pages who each have a unique perspective and style. We will be sharing our work around social media so follow the hashtag #getmessyartjournal.

Labels: Art Journal, Get Messy

35 36 37 38