01 02

03 04 05 15 16 19 20 21 22 23 24 25 26 27 28 31 32 33 34 *** Für den deutschen Text weiter runter scrollen ***



My Get Messy pages this week are both relatively similar. I started with some words in the middle and then added some bits and pieces around.





For the first page I used some old alphabet thickers (black corrugated, that don't fit my normal LOs), covered the page with white acrylic paint and then added this ombré look with watercolours. When it dried I added what came to my mind when thinking about who I am.





The second page was just for fun and came together in just a few minutes. First the "get messy" in the middle, then I added those silver thickers (don't worry, I once bought about 4 packs of those for 2$ each at TK Maxx, otherwise I wouldn't use them that generously ;) ), some acrylic spray paint splodges, sequins and done!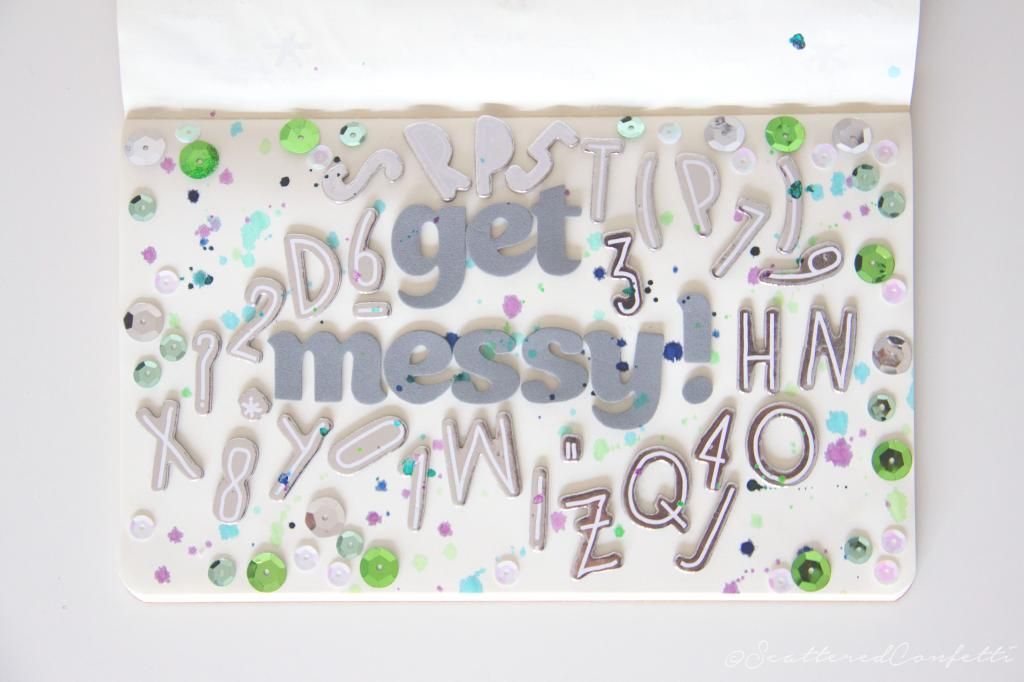 Meine Get Messy Seiten sind dieses mal recht einfach und sehr ähnlich. Bei beiden fing ich mit ein paar Worten in der Mitte an und fügte dann ein paar Sachen ringsherum hinzu.
Auf der ersten Seite habe ich ein paar ältere Alphabetsticker verwendet (schwarze Wellpappe-Sticker, die nicht so gut zu meinen normalen LOs passen), die ganze Seite mit weißer Acrylfarbe bemalt und dann mit Wasserfarben den Ombréeffekt aufgemalt. Als alles trocken war habe ich noch meine Gedanken zum Stichwort "I am..." hinzugefügt.
Die zweite Seite habe ich einfach nur zum Spaß gemacht, nichts tiefgründiges also ;) Um den Schriftzug "Get Messy" habe ich die silbernen Alphasticker geklebt (keine Sorge, ich hatte irgendwann mal 4 Packungen für knapp 2€ bei TK Maxx gekauft und habe daher noch mehr als genug. Andernfalls wäre ich damit nicht so "verschwenderisch"), ein paar Farbspritzer und Pailletten und fertig war die Seite. :)
Get Messy is an art journal challenge where a gang of crafty vixens are sharing art journal pages we have created to practise our skills and push past our creative limits with hopes to inspire. We share our pages without restraint every week, and once a month we create around a prompt. Go check out these crazy talented ladies who are creating pages who each have a unique perspective and style. We will be sharing our work around social media so follow the hashtag #getmessyartjournal.

Labels: Art Journal, Get Messy

35 36 37 38