01 02

03 04 05 15 16 19 20 21 22 23 24 25 26 27 28 31 32 33 34 So, today is the day when I finally answer the questions of the blog hop. First of all, I want to say thanks again to the lovely Lucia Barabas who tagged me to continue the hop!

1. What are you working on right now?
Right now I'm working on so many different projects. I have quite a few unfinished layouts lying around (some are already a few weeks old, others I started only yesterday), a mini album I wanted to fill with photos of my fiancé and me, and some selfmade embellishments. I've really been on an "embellishment making trip" lately, using all those bits and pieces in the ephemera packs to make some dimensional embellies and I love them!!

Here are some sneaks of what I'm working on at the moment.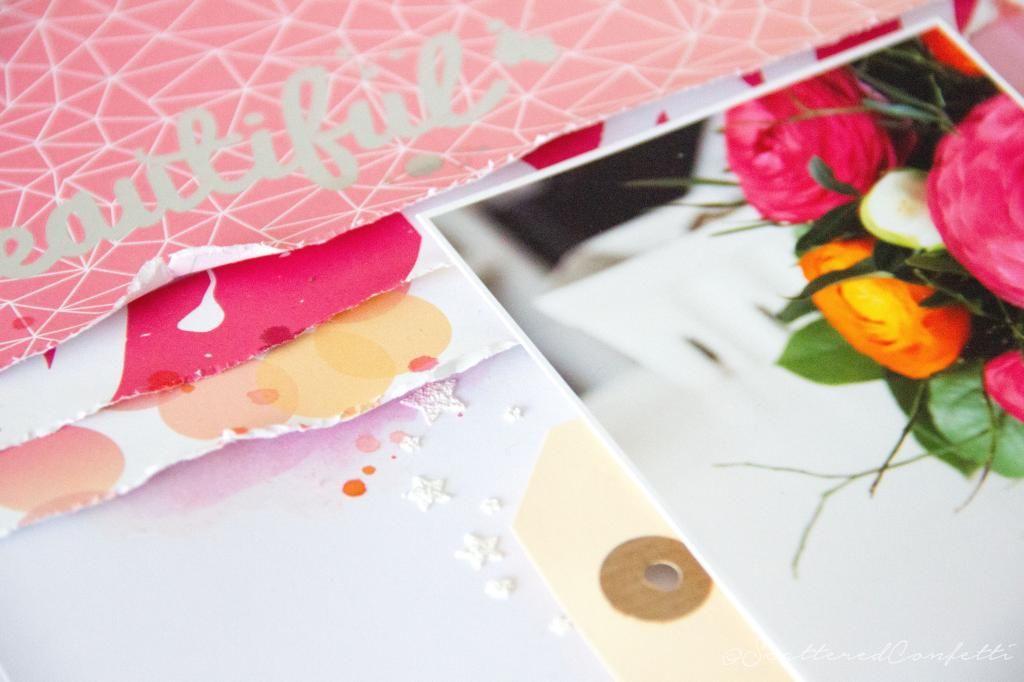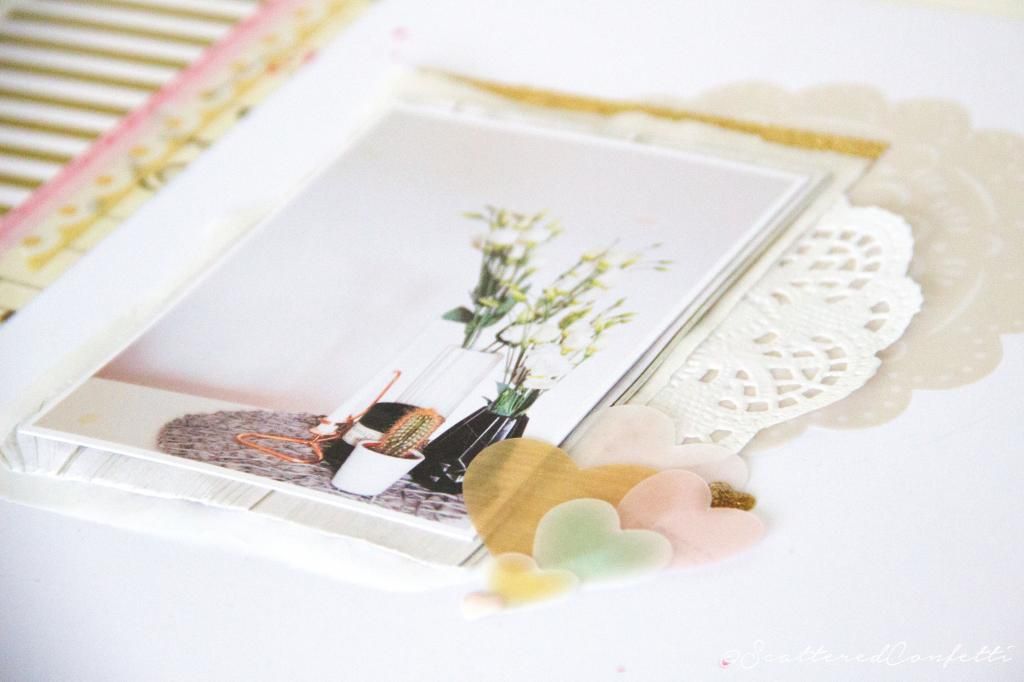 2. How long does it take you to create a project?

Puh.. that's very different. Sometimes I finish a layout in about an hour to two, and sometimes it takes days (if not weeks) for me to finish something. The longest so far was this layout that I finished about a year after I had started it.



3. What are your favourite things to create with at the moment?

Besides my typical white cardstock and all time favourite product the alphabet thickers, I loving these right now: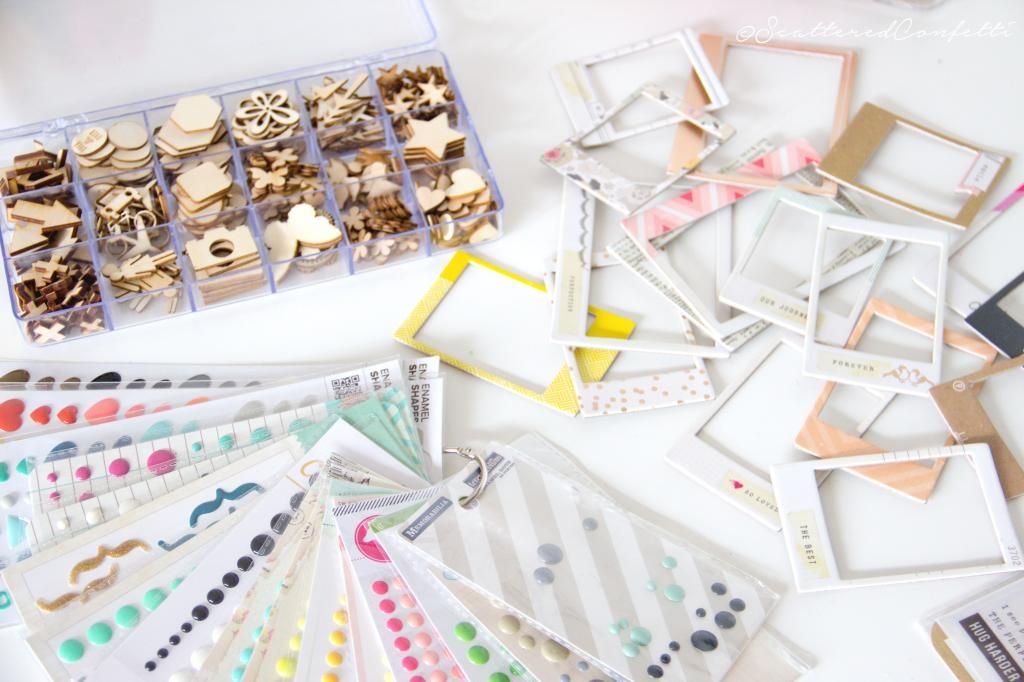 Acrylic spray paint (for paint splodges and misting on my pages)
Wood veneer bits
Enamel dots (can never have too much of those!)
Cardstock frames (like these pretties from the Crate Paper "Notes & Things" collection!)
Rub-Ons (Oh yes, I am loving the comeback of those! I bought every rub-on pack from the MME "Jubilee" collection! The others in the photo are from the Shimelle, the "Notes & Things" and the SC "Brighton Pier" collection)
4. How does your writting/creating process work?
I have two different approaches: Either I have a specific photo (or photos) in mind that I want to use and from that I choose the papers and embellishments to work with, or, I have some products in mind that I really, really want to use and then search for a photo that fits the colour scheme.
5. How do you become inspired and stay inspired?
I love perusing
Instagram
and Pinterest for some inspiration (see my
LO board
and my
mini album board
) and I also regularly check my favourite blogs for inspiration (fellow scrapbookers' or crafters' blogs as well as blogs like A Beautiful Mess, etc.). Sometimes when I'm stuck, I search on my board for a layout that I really like and then use this as a starting point. Often times my layout will turn out quite differently from it, but it helps me get going!
I also try to keep my eyes open for inspiration that comes from my surroundings (e.g. well-designed posters for events as an inspiration for a LO sketch).
6. What is your signature style?
White cardstock, mist splodges, enamel dots and layering! I think it's quite obvious from this photo that I took of some of my favourite layouts.



So to keep the blog hop going, I am supposed to tag three other crafters. Many of the ladies that inspire me have already participated in this hop, so I chose to name three talents that I want to tell you more about, who will hopefully also continue this blog hop. (But since I haven't had time to let them know beforehand - life got in the way ;) - I don't know if they'll do it or not. But I really want to tell you about them anyway!)




1.

Marivi Pazos

: I love Marivi's colourful projects and the fact that she always seems to try something new on all of her layouts or mini albums, they just never get boring and they are always so fun to look at! And her photography skills are just the cherry on top (I love a well photographed project)!

Check out her gallery

here

.




2.

Caylee Grey

: This girl, seriously, is a never ending source of inspiration! She doesn't scrapbook in the traditional sense, but puts all of her creative genius in mini albums and art journal pages and also started the Get Messy art journal challenge. Recently she also became self-employed and is now living my dream of being your own boss! Be sure to stop by her blog and be ready to be amazed!




3.

Eyoung Lee

: What I love about Eyoung's projects is the white space, the lightness and, just like Marivi, that she also seems to always try something new! The combination of papers and embellishments and the colours on her layouts are absolutely gorgeous!

Have a look at her gallery

here

.




As I said, I don't know if these lovely ladies will continue the blog hop, but I think you should pay them a visit anyway. If you would like to participate in the hop as well, feel free to answer these questions on your blog and then nominate three other crafters to show them some love! (Be sure to leave me a link to your blog post here, too!)

Labels: Blog Hop

35 36 37 38