01 02

03 04 05 15 16 19 20 21 22 23 24 25 26 27 28 31 32 33 34 Okay, so on Wednesday I drove to the Scrapbook Werkstatt warehouse to pick up my September kit and the DT material I get to scrap and (hopefully) inspire you! And, well.. the evening before I saw that in their online shop they had added some of the new collections I had been waiting for the whole time. So of course I had to do some more shopping when I was there!! (Hello new "Notes & Things" Crate Paper collection!).
You may have already seen my haul on my Instagram, if not go check it out. I'm sure you'll have hearts in your eyes when you see it, ha!

Am Mittwoch war ich, wie ihr vielleicht mitbekommen habt, im Lager der SBW um das kommende September Kit und meine DT-Materialien abzuholen. Und da sie am Abend zuvor einige tolle neue Kollektionen reinbekommen haben, auf die ich schon gelauert habe (halle "Notes & Things" von Crate Paper!), musste ich natürlich noch etwas shoppen.. Vielleicht habt ihr meine (nicht ganz so kleine) Ausbeute schon bei Instagram gesehen?

But there's a catch.. Because I had to finish the projects with the upcoming September kit first (to get them photographed etc. for the inspiration flyer that each customer gets with his kit), I didn't have any time to play with the other new goodies
(But then I have something to look forward too when I return home :) )

Aber die ganze Sache hat einen Haken.. Da zuerst die Kit-Projekte fertig gemacht werden (um Fotos für den Inspirationsflyer zu machen, die jeder Kunde mit seinem Kit bekommt!), hatte ich leider keine Zeit, mit den neuen Sachen zu spielen. (Aber immerhin habe ich dann etwas, auf das ich mich beim nach Hause Kommen freuen kann :) )

Well, besides my kit projects I managed to finish one layout with the gorgeous new My Mind's Eye collection "Just Sayin'" (by Rhonna Farrer). And because I can't show you the kit projects just now, I'll show you this one :)

Naja, ich habe es zumindest geschafft ein Layout mit der wunderschönen neuen My Mind's Eye Kollektion "Just Sayin'" (von Rhonna Farrer designt) zu werkeln. Und da ich euch vom neuen Kit noch nichts zeigen kann, gibt es heute dieses Layout ;)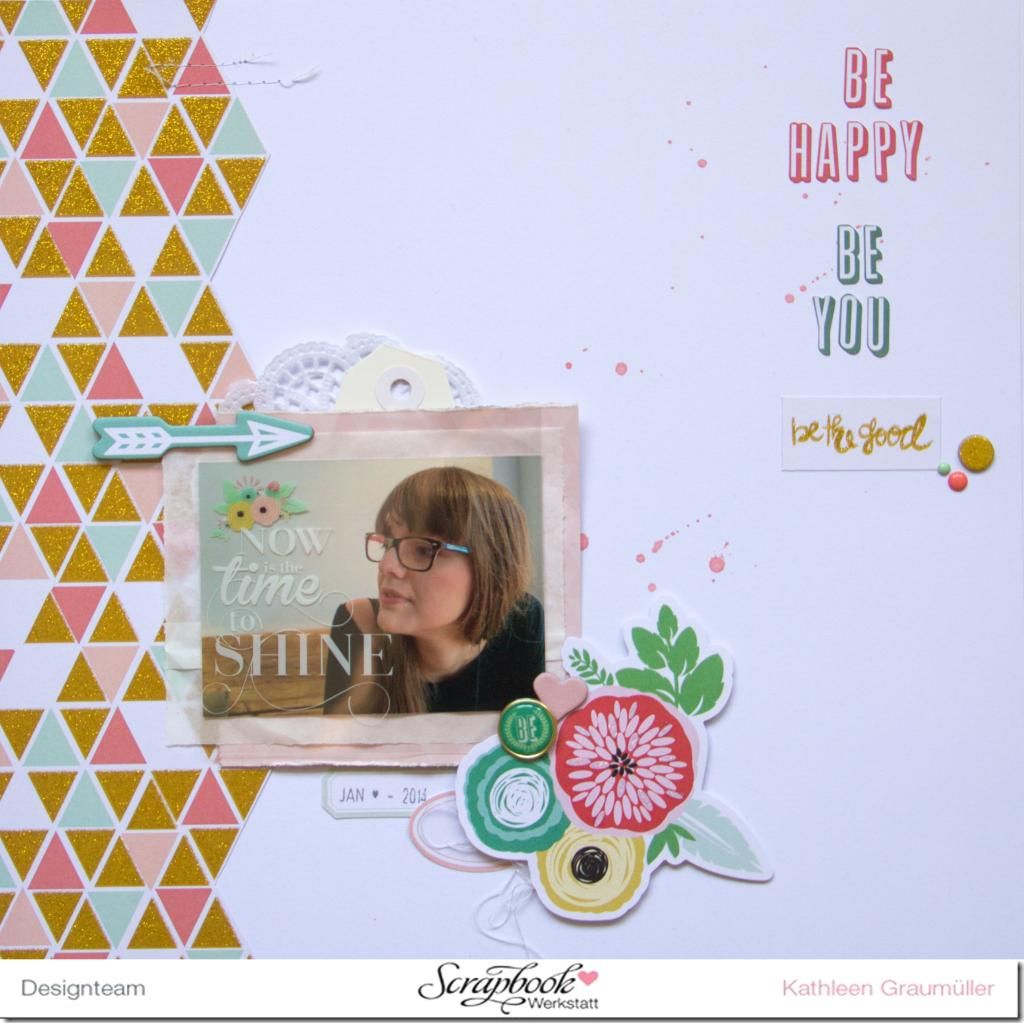 Sorry for the photo quality.. The lighting wasn't perfect but I won't have any time tomorrow, since we'll be leaving for our Spain trip and I really wanted to show you this one.
Entschuldigt die Fotoqualität, das Licht war heute eher bescheiden. Allerdings werde ich morgen keine Zeit mehr zum Fotografieren und Hochladen haben, da wir uns in den Urlaub verabschieden. Und davor wollte ich euch das LO noch gezeigt haben! ;)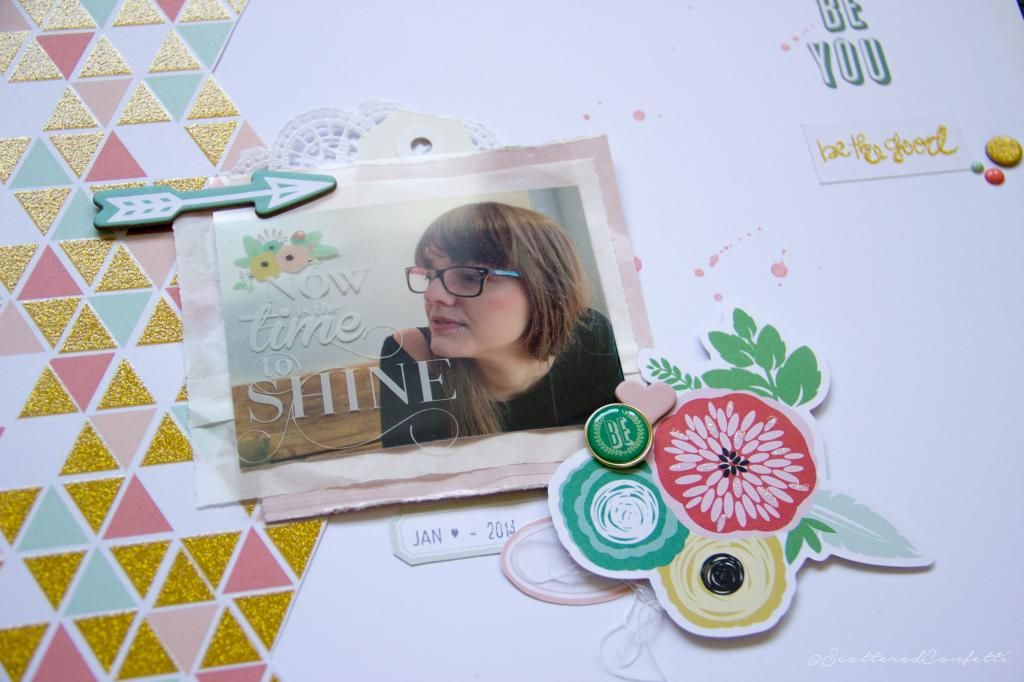 I also added a bit hidden journaling, because it's something I didn't want everyone to see on first glance - I mean, that's the idea of hidden journaling, right? :D
Ich habe noch ein bisschen "Hidden Journaling" hinzugefügt, da ich nicht wollte, dass man das auf den ersten Blick direkt sieht.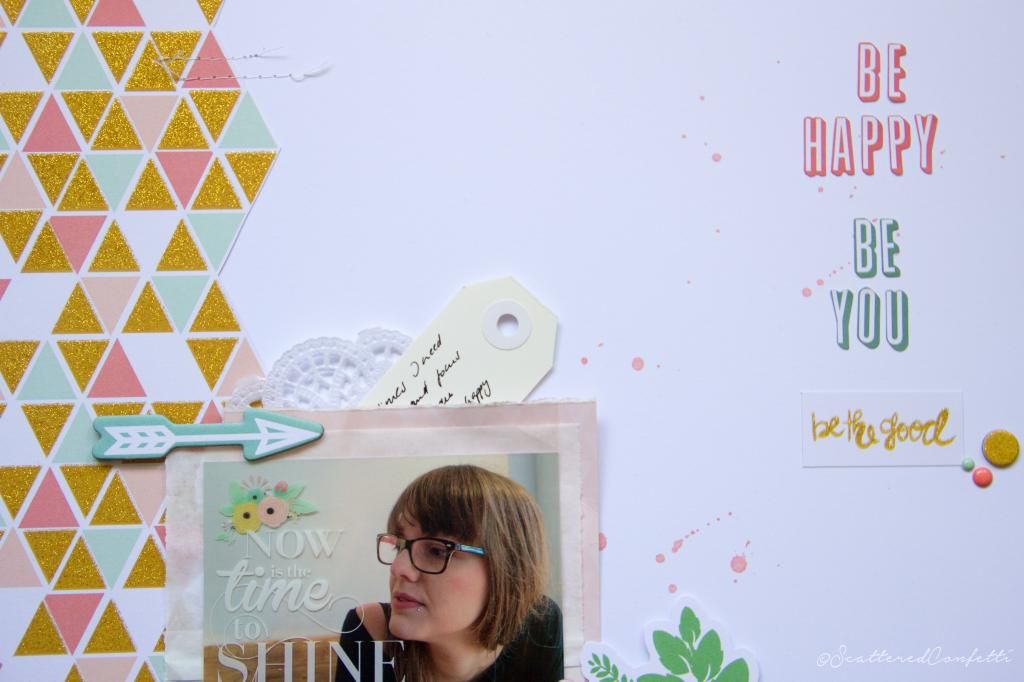 Those sparkling gold elements on the patterned papers (which can also be found on the embellies, stickers etc.) are absoutely gorgeous, aren't they?




Diese glitzernden Goldelemente auf den Papieren (die sich auch in den Embellishments, Stickern etc. wiederfinden) sind doch einfach ein Traum, oder??


Alright, now I'm almost off to Spain for almost 2 weeks (still need to do some packing....)! I have scheduled a few posts, but I won't be able to blog very often since I'm not sure if I'll have internet (and how fast it will be) and, well, because I'll be on vacation!! :D

So, nun bin ich auch schon fast auf dem Weg in den Urlaub für fast 2 Wochen (naja, ein bisschen muss ich noch Packen..). Ich habe ein paar Posts vorbereitet, aber ich werde nicht allzuoft bloggen in der Zeit. Ich hoffe ich sehe euch alle nach meinem Urlaub hier wieder! :)




Products used:


My Mind's Eye "Just Sayin'" collection
My Mind's Eye "Just Sayin'" Belong Glitter paper
My Mind's Eye "Just Sayin'" enamel dots
My Mind's Eye "Just Sayin'" chipboard elements


My Mind's Eye "Just Sayin'"

mixed bag
My Mind's Eye "Just Sayin'" transparency frames
My Mind's Eye "Just Sayin'" alpha stickers
My Mind's Eye "Just Sayin'" decorative brads


Kesi Art Pschhiitt spray




doily





Psst.. I used part of the packaging of the alpha stickers to mat the photo (the light pink paper).

Labels: 2014 Layouts, Design Team, Layout, My Mind's Eye, SBW, Scrapbooking

35 36 37 38